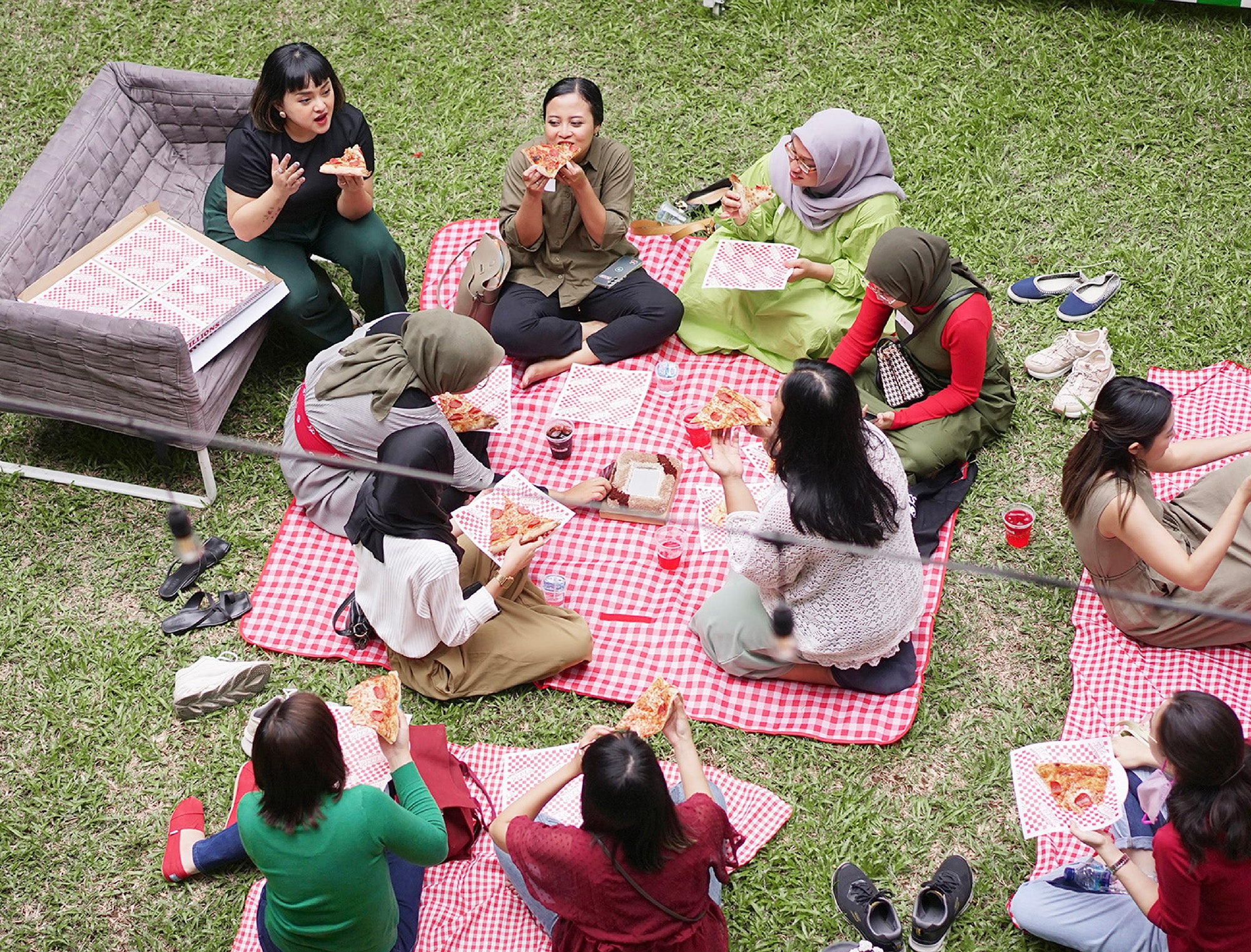 7 years young and still counting.
Craving a slice of #BLPTurns7 fun?
Grab a seat as the exciting story of the Pizza Party begins!
How do you typically celebrate your birthday, #BLPFam? After a two-year pause due to the pandemic in 2020 and 2021, we realize that celebrating birthdays with our closest friends and family is indeed a privilege. Last year, we decided to not take things for granted and the same goes for this year. When we think about what kind of party to throw this year, we had an "aha" moment saying that hanging out with #BLPFam is an absolute MUST! 
To celebrate our 7th birthday, we decided to do something intimate and fun gathering with a slice of happiness — a pizza party! By fun, we mean tufting class led by the amazing Life Is Tuft team. They made this intimate event even more enjoyable and worthwhile, especially for participants who traveled from different cities like Bogor and Yogyakarta.
But wait, there's more! The participants were so lucky to be the first ones to try the unreleased #OnTheLips from the #BLPxTUKU collaboration. And guess what? They also received a special voucher code to shop for their favorite shades at blpbeauty.com!
To top it all off, the participants were treated to a mouthwatering, fresh-from-the-oven pizza supported by Millions Pizza that sewed smiles on their faces. They enjoyed the slice of heaven while mingling, picnicking, and of course, capturing countless selfies with their fellow #BLPFam.
Here are a few testimonials from #BLPFam who joined #BLPTurns7 Pizza Party:
"This was my first tufting experience and I would say it was truly memorable." — Stephanie
"I really enjoyed today's event, and I can't wait to join the community right after this. Hoping for more events like this in the future!" — Yohana
"Today was so much fun! Not only did I get to enjoy tufting, but I also had the chance to get to know other #BLPFam." — Maharani
"We're thrilled to witness the excitement and creativity of #BLPFam. They are fast learners too! We'd love to have more events like this with BLP and #BLPFam." — Life Is Tuft team
As we hugged and said goodbye, we realized how tight we've become. It is a privilege to have a supportive community that can celebrate precious moments together.
So, here's to an unforgettable #BLPIRL and #BLPTurns7 Pizza Party! We'll cherish the memories, hold onto laughter, and eagerly await for our next adventure together with you, #BLPFam. Have a slice day!
Click here for more: