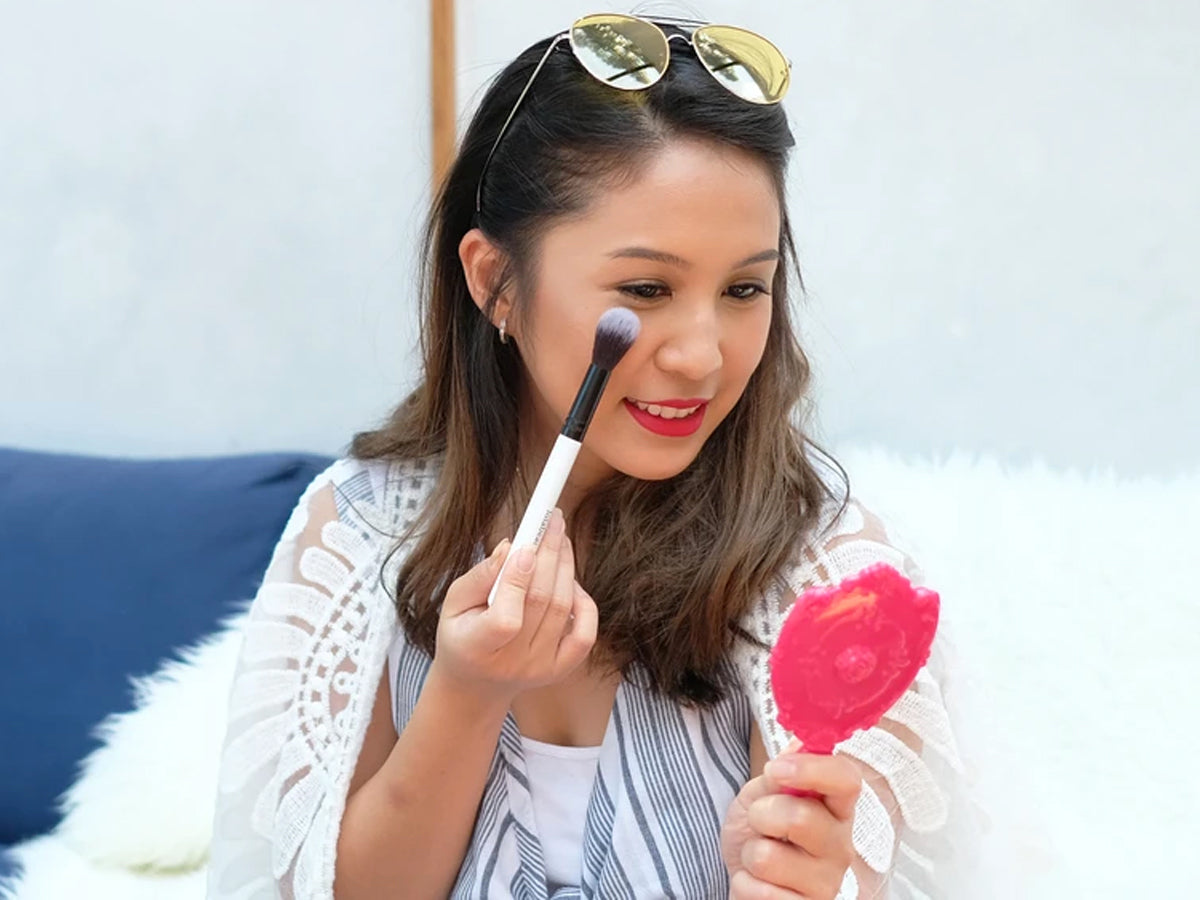 Pursuing your passion is always worth the risk. Paulina has proven that adage by pursuing her passion in makeup even after putting it aside for a while. On the day of the photoshoot, with a calm demeanor she worked her magic touch on Kadek Arini and Naya Anindita at ease. You can tell that she does makeup effortlessly, as the result showed stronger features rather than total makeover. For her own shoot we also put bolder color on Paulina – something she rarely tries herself – and some summer playful looks. The result? Her beauty radiated, her confidence was palpable. We discussed her love for makeup and how she established her own brand, Lola Beau.
Why are you interested in makeup?
It all started with Youtube. I have watched a lot of beauty gurus on Youtube, and was immediately interested in makeup. As fate would have it, even after three years working experience in hospitality industry, I decided to dive into makeup and has never looked back since.
How would you describe your approach to makeup for yourself and your clients?
I want to make myself and my clients feel confident. To achieve that, I would rather enhance someone's interesting features than changing her appearance totally.
You have also established a brand called Lola Beau. Why did you start this brand?
My biggest supporter and motivator in building Lola Beau is my father. He is a businessman, so entrepreneurship is in his head 24/7. He encouraged me to create my own brand in beauty industry, to be more than a makeup artist. Around a year ago I started brainstorming – finding out what it is that everyone needs. I decided to start with accessories such as brushes and fake eyelashes with good quality.
Based on your experience, what features are the most important in makeup?
Eyebrows! They are like frames for the face. Once you get them right, you can make the face look more "alive." Strong eye makeup can also give more dimensions to a simple makeup look.
What are your favorite BLP products?
I love the lip coats! They are easy to use and do not leave the lips dry. I like all colors, but for my skin tone I'd choose Persimmon Pie and Butter Fudge.
Lastly, how would you define #BeAdored?
Love yourself first, then your confidence will shine through.