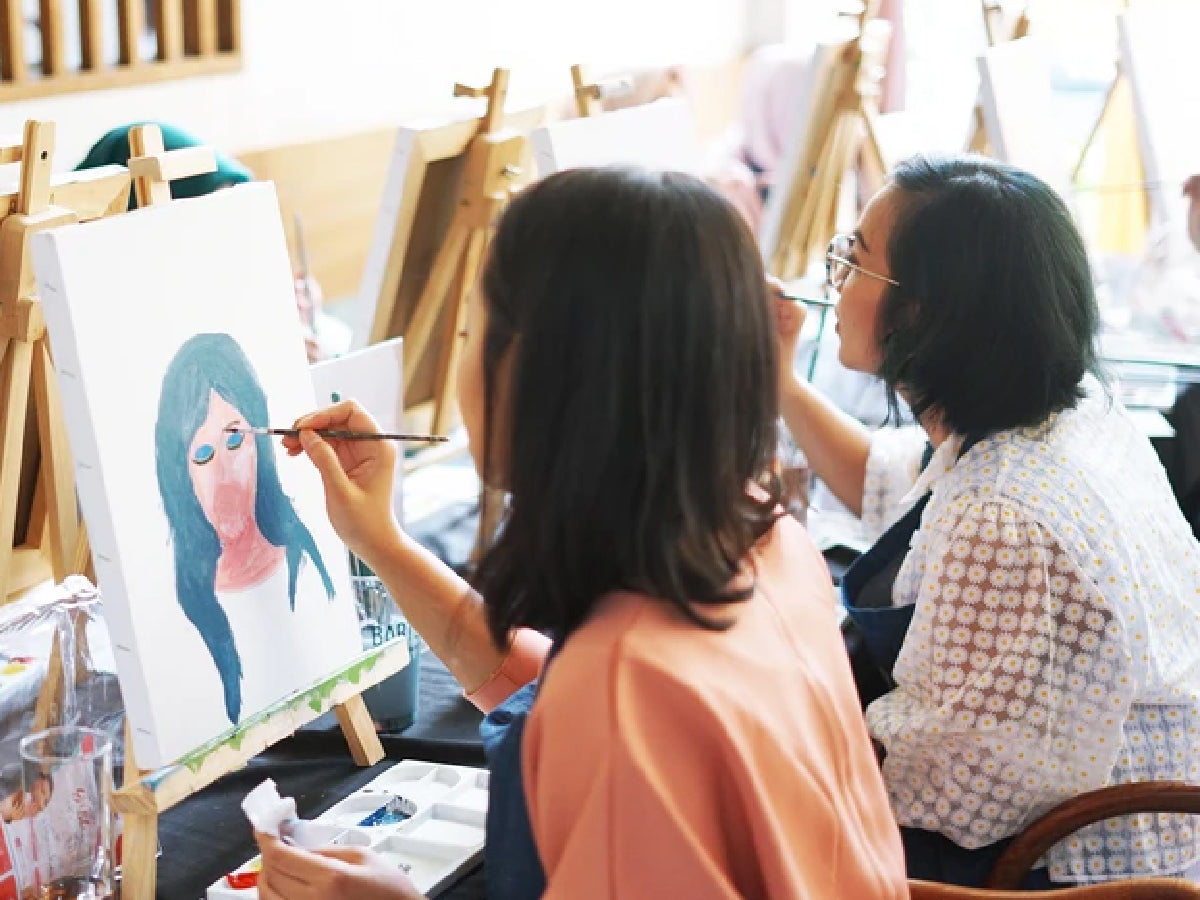 One exciting activity with the people who let you express yourself freely will freshen you up like a summer breeze. That's exactly what we're doing in #BLPIRL Painting Class with Bartega Studio! 
We're letting out our inner Leonardo Da Vinci and play with the acrylic paints however we want! We didn't need to worry for our tools! Because canvas, paints, brushes and aprons were all provided by Bartega Studio.
Upon arrival, every #BLPGirls received an exclusive goodie bag contained with selected BLP products, a hair pin set from @kurva.id, a charcoal soap bar from @favorinse and vouchers form @smoochbeautybar. 
Do you know another thing to jump-start our mood? Yes, food. Savior generously provided us with heavenly cakes and drinks to energize us before the class began. Yummy!
A little confidence boost would definitely kick-start the event! So we made a Beauty Corner where #BLPGirls could swatch or even do a little touch up with their favorite BLP products.
The painting session started by Our Lady Boss Monica Christasia explaining the drive behind #BLPIRL. Then the coaches from Bartega Studio taught us how to create our own color from yellow, red and blue. How exciting is that! A bit of stirring and mixing, then we're ready to roll!
Amazingly, painter's block were nonexistent! Everyone was painting ever so smoothly.
Some of #BLPGirls were following the given layout, while some others were sketching freely with their own style including Mega and Angelia. You can see more of their unique styles on their instagram account @megachintasih and @njiecw.
The time rolled so fast when we're so engrossed in the moment. Suddenly it was the time to announce the 2 best painters of the day; @andiyanilrs and @fine_furi. Each of them received free painting class from Bartega Studio and free eyelash treatment from Smooch Beauty Bar. Congratulations for them both!
We are so proud to have witnessed your creative side, #BLPGirls! Just like an acrylic painting whose color will not fade in time, we hope our togetherness will become more solid and timeless. See you on the next one!