The Fantastic Multipurpose Tinted Sunscreen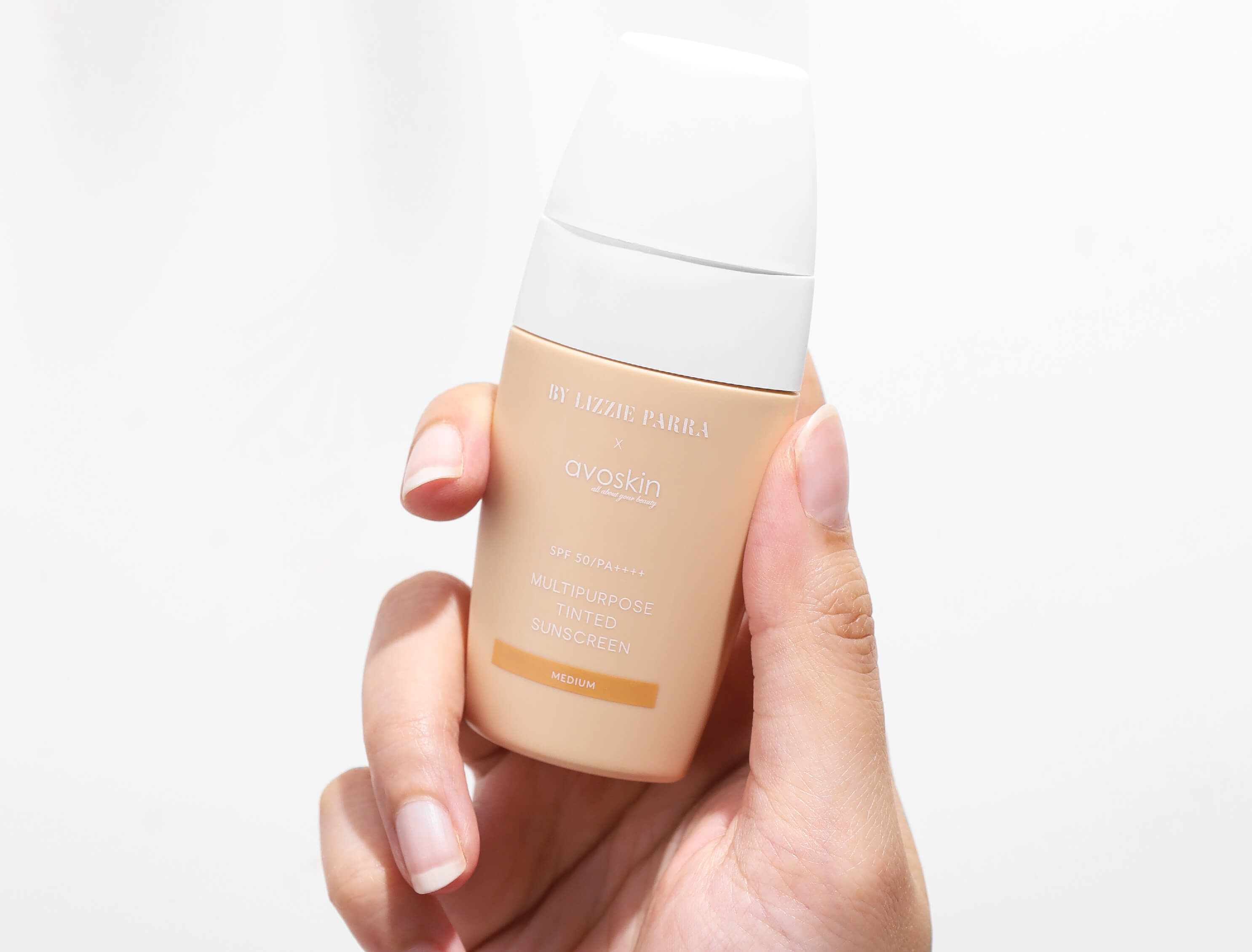 Together with Avoskin, we created your ultimate makeup-meets-skincare essential to elevate your routine and protect your skin
When is the best time to use sunscreen? The answer is: everyday. Yes, including when you are staying at home the entire day, sunscreen is a must because UVA/UVB can still make its way through the windows or anywhere you have natural light. Even when it's raining or overcast, the sun is ever present and thus, your skin needs some extra protection.
But don't we all need some vitamin D from the sun? Yes, but the UV rays are like a double-edged sword. UVA can cause your skin to age quicker, losing elasticity and collagen over time. Meanwhile, UVB burns your skin and increases the cell damage that can lead to cancer. 
So we are formulating the best come Multipurpose Tinted Sunscreen. In collaboration with Avoskin, we combine the best of still-feeling-like-yourself makeup and powerful skincare ingredients to create this purposeful, easy-to-use, made-for-everyone sunscreen.
A long time in the making, the formula does more than just a regular sunscreen as it protects and takes care of your skin. Notes exchanged, shades were developed and samples were tried – even the pandemic does not stop us from collaborating – and this brainchild was born.  
5 reasons why Multipurpose Tinted Sunscreen is simply fantastic:
1. Powerful sun protection in broad spectrum of SPF50/PA++++
The very essence of a sunscreen lies in its protection, and Multipurpose Tinted Sunscreen got you covered, both literally and figuratively. The formula combines both physical and chemical sunscreen agents; physical sunscreen reflects the light so it does not penetrate your skin, while chemical sunscreen absorbs the radiation and converts it into heat energy. In other words, Multipurpose Tinted Sunscreen shields you better, without the white cast.
2. Sheer coverage for a natural, effortless finish in five shades
As the name suggests, Multipurpose Tinted Sunscreen does come with a tint of coverage. Made to be enjoyed by everyone, the coverage falls in the category of sheer. It only gives you natural-looking skin, so you can go out wearing only it or layer it with your preferred complexion products.
Multipurpose Tinted Sunscreen arrives in fives shades for fair to dark skin tones:
Light is a fair beige shade made for those with fair to light skin tones.
Beige is a light beige shade that will suit light to medium skin tones.
Medium is a medium beige shade to compliment medium skin tones.
Honey is a deep beige shade that goes perfectly for tan to dark skin tones.
Sand is a rich brown shade that works seamlessly on dark skin tones.
3. Hydrating effect thanks to Centella asiatica (Cica) and vegan squalane oil
The crème de la crème of skincare ingredients are infused in Multipurpose Tinted Sunscreen. Indeed, you will enjoy hydrating effects with Centella asiatica and squalane oil. More than just hydrating, Cica also serves as a great antioxidant property and helps reduce the effect of sun damage. Hello, clear, healthy skin!
4. Acne care by way of Salicylic acid (BHA)
Mask is obligatory nowadays, and like it or not, some of us have to deal with maskne. The BHA in Multipurpose Tinted Sunscreen will be your best friend in dealing with maskne, acting as an anti-inflammatory and keeping your pore clear.
5. Rich skincare ingredients of niacinamide, allantoin and caffeine
Completing the potent list of skincare ingredients in the sunscreen are niacinamide, allantoin and caffeine. These three deliver a brighter effect on your skin, tackle early signs of aging, calm your acne and improve the appearance of your skin.
Still got questions on the formula? It definitely suits all skin types, as it is non-comedogenic and dermatologically tested. Wear it as you do outdoor activities, as it is sweatproof and water-resistant, minus the sticky feeling. The best part of it is that Multipurpose Tinted Sunscreen leaves no white cast, no matter your skin tone.
To get the best protection, apply Multipurpose Tinted Sunscreen on your face, neck and ear as those areas are the most exposed to the sun. You should at least pump the formula on your two fingers, then apply with your fingers evenly. Ideally allow 20 minutes for the formula to work before going under direct sunlight. At the end of the day, don't forget to do double cleansing to prep your skin for your nighttime routine. 
What else are you waiting for? Simplify and elevate your routine with Multipurpose Tinted Sunscreen.