BLP ZINE: LIPS MATTER | THE FANTASTIC FOUR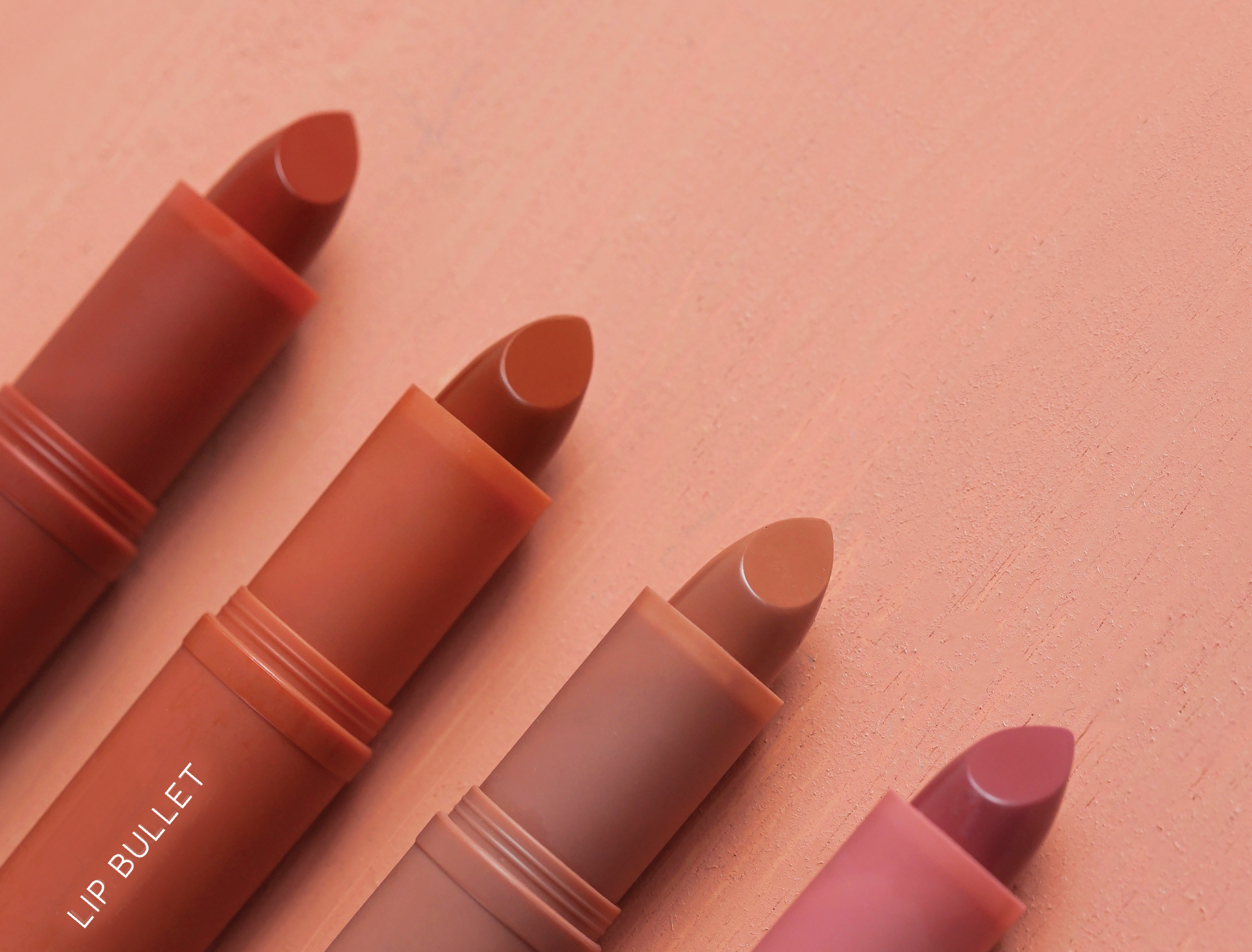 Uncover the power of a good lipstick, with four new Lip Bullet shades
If you haven't experienced the transformational power of a lipstick, now is a good time to do so. Like a good pair of jeans, a good lip shade can boost your confidence, get you through what looks like a tough day and give you a put-together feeling. It was with this premise in mind we created Lip Bullet in the first place: to give you solid selections of lip colors that can take you to work, workout, and everything in between.
Following the footsteps of Licorice, Pavlova, Biscotti, and Cannoli, the four new Lip Bullet shades are formulated to deliver satin-matte finish in just one swipe. They are rich in texture, with longwearing and buildable qualities so you can take control of the intensity of the color. Versatility is also a common factor across all shades. Whether you are ladylike or a tomboy, a lipstick fanatic, or someone who has just given lipstick a shot, these hues will still make you feel like yourself.
Without further ado, let's dive into the new shades of Lip Bullet.
Ending your search of a perfect red is Parfait. At the first glance, this red may look intimidating, but the brown undertone will complement any skin tones – literally – and can slightly differ depending on your natural lip color. Parfait is such a bold statement that immediately brings out your empowered, powerful self, giving you all the more reasons to wear it on a daily basis. Should you wish to embrace a softer red, simply use your fingers to apply the color on your lips for a more diffused finish.
On to a light, peachy, my-lips-but-better shade that is named Pretzel. Just like the snack that can be dipped into a variety of sauces, this Pretzel can potentially be your most loved Lip Bullet to date as you can wear it in a variety of makeup looks. You can go out with only the nude shade on your lips and a quick touch of Brow Definer, looking fresher than ever. You can also wear a full liner look with Eye Definer and effortlessly dab Pretzel with your fingers. 
This Pumpkin is poppin'! If you enjoy a little experimentation in your life, or if you are an avid lip color seeker, Pumpkin is that standout, unique shade to fill in the gap of in-between tones. Derived from the well-loved Lip Coat Pumpkin Sorbet, Pumpkin in Lip Bullet also comes in muted orange with just a slight of red undertone. We call it a shade for the unexpected – it is flattering in its own way, and you'll be asked what's on your lips when sporting the hue.
Be your most authentic self with Popsicle. This muted pink is quietly bold and playfully feminine, balancing the best of both worlds and fittingly gracing all kinds of skin tones at ease. It is the grown-up version of your beloved bright pink from yesteryear, a color made to dress up and dress down depending on your mood. The best thing about Popsicle is that you can never overdo it no matter how you prefer to apply the shade.
Now let's get to the ultimate question on your mind: "Which Lip Bullet should I get?" Let us tell you that one will not be enough. Wear the shade you want, combine different colors together and create something you can call your own!

While there is no such thing as the perfect pout, you can master your way to get your desired lip color and finish. Practice these tricks and show off your true colors!
First, prep your lips by applying lip balm. Leave it for at least a minute, or while you are applying the rest of your makeup, before taking it off. Then, apply the color straight from the tube for the longest wear formula. After doing a full lip, take a tissue and lightly blot the excess. Use half a ply as your shield, then tap Face Powder gently, before adding the final layer of Lip Bullet.
The easy route would be to simply put highlighter on your cupid's bow. Alternatively, you can also take a lighter color of Lip Bullet or Lip Glaze, then place it only at the center of your lips. We do not recommend overdrawing your lips, as the end result may look unnatural.
There are two ways to do this: use your finger to take the color from the tube and press on your lips, or to do dabbing motion, instead of swiping, to get softly diffused saturation. You can also take Lip Bullet of your choice on the back of your hands, then add a lighter color in the mix, before transferring the concoction to your lips.
For the most precise application, use a lip brush especially around the edges of your lips. Build the color slowly until you achieve the desired intensity. To keep your lips looking crisp, add Face Concealer to smoothen the lines.
To get a color that is your own, you can mix Lip Bullet on your lips by layering one with another, or to use the back of your hands as a canvas, and work the formula there. You can also try applying light foundation on your lips before applying any nude shade to get a more complimenting my-lips-but-better hue.